Helpful hints for a hassle free move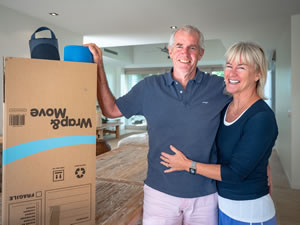 Reduce the stress associated with moving home by being prepared. It sounds simple, but when it comes to relocating there's a lot to do and remember, and that's on top of your normal busy routine. Take time to read out removals tips and make things easier for yourself in the long run
Keep a diary or checklist of what needs to be done and make a record as you have achieved tasks listed. Australian Furniture Removers Association (AFRA) offer some expert advice on moving do's and don'ts in their planning a move  section.
Actually packing up house is one of the most stressful factors of your move. To reduce stress read our Helpful Hints for a Hassle Free Move brochure  and watch our packing videos below.
Or just ask us for a quote if you'd like us to do the packing for you!
If the thought of packing is stressing you out, or you just don't have time for it, the Noosa Van Lines team of professionals can come to your home the day before your move and pack the entire house. This means you won't be surrounded by boxes, cartons and mess in the weeks leading up to your move and substantially reduces your stress levels and causes less stress for children and pets too.
Packing cartons and preparing for your move
Pack a "Survival Kit" (Carton #1). Include kettle, cups, coffee, cleaners etc. Place bed legs, remote controls, wardrobe keys, and toilet paper in the same box for ready access.
Pack all personal papers, bank/cheque books etc in a folder and place in your car or suitcase to be carried with you.
When packing cartons put a layer of scrunch paper in the bottom of your cartons. Wrap each item individually, stand plates on their edges. Pack heavier items at the bottom, working up to lighter items on top, using plenty of scrunch paper between each layer. For example, dinner set on the bottom with Tupperware on top.
Ensure all cartons are packed tight with a layer of scrunch on top to avoid crushing. Tape each carton closed securely.
Pack books, wine and heavy items in the smaller "Book Cartons" to avoid overloading. Remember the removalist is only human.
Mark each carton clearly on top with your name and the room you require it to be placed in upon arrival. This will save the removalist time and you effort when unpacking.
Pack items in standard cartons and book cartons, not tiny supermarket cartons or oversized cartons. This will save time and effort and ensure cartons are strong enough to avoid collapsing in the load and potentially damaging contents.
Do not pack anything in garbage bags or striped plastic bags, they split and your belongings may end up being trampled or lost.
Empty all drawers, filing cabinets and cupboards to avoid breaking runners etc and pack all contents into appropriate cartons.
Use portable wardrobes for hanging clothes, for ease of transport and to avoid lengthy unpacking and ironing on delivery. We have portable robes for hire on all moves.
There are a number of items we are not able to carry, so please check the list of ineligible items at the end of our Helpful Hints for a Hassle Free Move brochure and either dispose of these items or arrange alternative transportation.
Plants, where they can be taken, will be carried with all care but no responsibility. Water the plants at least one day prior to uplift, not the day of your move, then place each pot into a plastic bag and tie around the top. This will keep the plant moist and stop the dirt spilling over your goods. Ceramic pots generally do not travel well and have a tendency to crack.
Ensure the BBQ drip tray is cleaned and fuel is drained from lawn mowers and whipper snippers etc.
Some items to be moved may have to be properly prepared before they are loaded onto a vehicle and, in some cases, you may have to have a qualified tradesman attend to your property. Arrange for disconnection of appliances for the day prior to moving, with a plumber, electrician, sound or computer technicians as needed.
Dismantle items for travel such as self-assemble furniture, garden shed, beds and take the dryer off the wall. Clean garden tools and bundle together with tape.
Run down the contents of your freezer and clean it out at least the day prior to your removal. Give away frozen foods and other foods you can't take with you.
General things to keep in mind when planning your removal
Should you require storage for your goods in Noosa prior to departure or on arrival please contact Noosa Van Lines office for details and bookings.
If you have any items for removal, additional to the list you have provided, notify Noosa Van Lines office well in advance of your move. Failure to do so may result in some of your personal effects being left behind due to lack of space.
Advise the office of your insurance requirements. We are authorised representatives of Cowden (Vic) Pty Ltd (Aldridge & Street division) insurance brokers and can arrange transit and storage insurance for customers. We will not effect insurance of your goods except on your express instructions and at your expense. All insurance proposals must be completed and returned prior to uplift
Advise the office and driver of any difficulty with access. Do you have stairs; can a truck get up your driveway; is it steep; are the trees overhanging; are the power lines too low; is your street too narrow; do we need parking permits? If a ferry vehicle is required due to difficult access you will be charged, so please advise us to enable us to send the right vehicle for the job.
Notify people of your change of address: Bank, Doctor, Finance Company, Medicare, Medical Benefits, Clubs & Organisations, Motor Registration Board, Electoral Office, Accountant, Insurance Companies, Schools, Magazine & other Subscriptions, etc.
Redirect your mail at the Post Office. Cancel your paper delivery. Return library books and DVDs. Pick up dry-cleaning.
Arrange for final readings and disconnection of telephone, electricity, gas and water.
Always do a last minute check: Ensure nothing is left behind, check gas & power are turned off at the meter/mains, lock all windows and doors, and surrender the house keys to the new owner, solicitor or caretaker/agent.
Organise a rendezvous time at your new home with the driver, and have a safe trip.
Strategy for Packing
Packing Crockery
Packing Glasses
Children do not have the maturity to understand a house move the way you do so we'll help make the process easier for them. We understand that your children are a critical part of your considerations when moving. Caring for their mental health and physical well-being is our priority as well as yours. That's why Noosa Van Lines give our customers a five step guide to preparing your children for a home removal and some very practical tools to help you make the transition easier for all members of the family.
1. Stay positive, whatever the reason for your move. If the reason is associated with an unhappy event, your children will need even more reassurance and attention.
2. Talk to your children and explain at a level they can understand why you are moving. Listen to them and their concerns. It is natural they will be a little worried about leaving friends and familiar surroundings. You may be feeling the same way and it's fine to share those feelings with your children.
3. Children express their anxiety in different ways. They may exhibit signs of depression, withdrawal or even tantrums. Give them lots of reassurance and positive attitude.
4: All children react differently:
Infants: Very young children will be the least affected, as long as their normal routine is not disturbed greatly.
Pre-schoolers: Their greatest fear is being left behind. Instead of getting them out of the way let them stay and help you pack up their toys. Never throw away any of these before the move, having familiar things around is a great soother for youngsters.
Primary school children: Children of this age look forward to discovering the world around them. Their sense of self identity is more highly developed, extending beyond the family circle. Consequently, the move is often exciting for them and their main concern is how they'll fit into their new school.
Teenagers: Deep, vital friendships are very important to older children. Social activities and friends have now over-shadowed the family as sources of identity for our teenagers. Talk to them openly and frankly about the move. Help them find new sporting clubs and interests once the move is complete. If practical, encourage them to invite friends to visit or stay at your new home.
5: Although it may seem more convenient to relocate during school holidays, experience shows that this timing can be more upsetting for children. School is a major source for making friends, so moving during holidays minimises the opportunity to make friends. The first day of the new school year they will enter the class as a stranger and may not be recognised as such by a teacher facing a new class for the year.
On the other hand, moving during the school year would allow your child to go directly from one group of friends to another and not be overlooked by the teacher.
More useful tips for moving home with children:
Involve your children in the move and finding a new home.
Get some moving treats – pack a few of your children's favorite toys, books and snacks to enjoy during the move.
Try to spend as much time with your children as you can. Don't try to get everything done the minute you arrive.
Take them to school in the first few days or weeks.
Be aware of the signs of anxiety – younger children may revert to baby behaviours so try to be reassuring rather than scolding.
Give your children a small address book and encourage them to exchange addresses and phone numbers with their old friends or show them how to stay in touch with Facebook if they're old enough.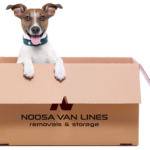 We can also help organise moving your four-legged family members. Moving home can be traumatic for your pets but we'll help minimise their stress. There are two companies Noosa Van Lines recommends for pet transport. Both offer excellent services and a thorough knowledge of all requirements for moving animals within Australia and overseas. Visit Dogtainers and Jetpets for additional information and a proposal on the safe transport of your pet.
Sunshine Coast local, Meg Graham from Training with Love, has these tips for families relocating their pets and specifically dogs to a new home.
Tips for moving with dogs or other pets
Try not to make a fuss on the day you move your pet. Remember that it's just a normal car ride for them. If your dog is travelling without you make sure they have some familiar favourite chew toys, bedding and items with them.
If possible visit your new home with your dog a few times prior to moving. This means the house will already hold some familiar scents and sights and will not be a complete surprise.
On the day of the move, be sure your dog is placed in a secure, comfortable area away from the removal team for their safety as well as to protect your pet from danger. Ideally leave your dog with a familiar friend or family member on the day of the move and introduce your pet to your new home once all strangers have left. If you are unable to relocate your dog elsewhere on moving day, then either take the dog bed, water dishes and toys in the car or ensure they are the first things off the truck at the other end. Your dog can then be secured in a contained area like the laundry or garage with these familiar items, while the removal team places your furniture in your new home. This will give your pet a sense of security.
At your new home begin doing normal life things as quickly as you can. Normality as far as possible seems to be the key to successfully settling in. So if you normally walk or play with your dog at a particular time then go for that walk or have that game, even if there are boxes to unpack. You will probably need the break yourself by then.
Ensure the new yard is securely fenced before allowing free unsupervised access by your dog.
Do not spend all your time with your dog in these initial stages, as they will expect that their new life involves you being with them all the time. Make sure you leave the house for various lengths of time in these initial stages, so they learn you will not be with them constantly.
Introduce yourself and your pet to your neighbours on all sides. Make sure you have some treat with you that the neighbours can give to your dog. This way your pet will not find them so much of a threat. Invite your neighbours for coffee to promote a bit of a relationship between them and your dog and ask them to let you know if there is a problem with noise or anything else so you can work on resolving any challenges before they become a problem. This way the neighbours will also be more inclined to talk to you first rather than go straight to the authorities if a problem arises.