Packing your personal effects ready for your Interstate or Local Removal.
You have made the decision to move locally or Interstate and the time has come to start the process of boxing your effects. Most professional removal companies will offer a pre-packing service, but it is certainly more cost effective for you to undertake this if you have the time and capabilities.
First and foremost, use cartons designed for the furniture relocation industry. These can be readily sourced from most removal companies or storage centres, they are designed to handle the rigours of Interstate and local transport.
As a basic rule, any item/s that can be boxed, should be boxed, ensuring all items have the best possible chance of travelling without damage.
There are 3 main categories of cartons used when undertaking you pre-pack. The first is the standard carton, dimensions approximately 440mm x 400mm x 600mm.  This carton is predominately used for large cooking utensils, pots/pans, linen, large display items, Tupperware, baking tins and trays, vases and even small pot plants. The second is the book and wine carton, apart from the obvious, they can also be used for all smaller items such as china sets, glass ware, small ornaments. The third is the porta robe, this is used for the transportation of hanging clothing, saving you the trouble of having to iron or re fold clothing upon arrival at your new home.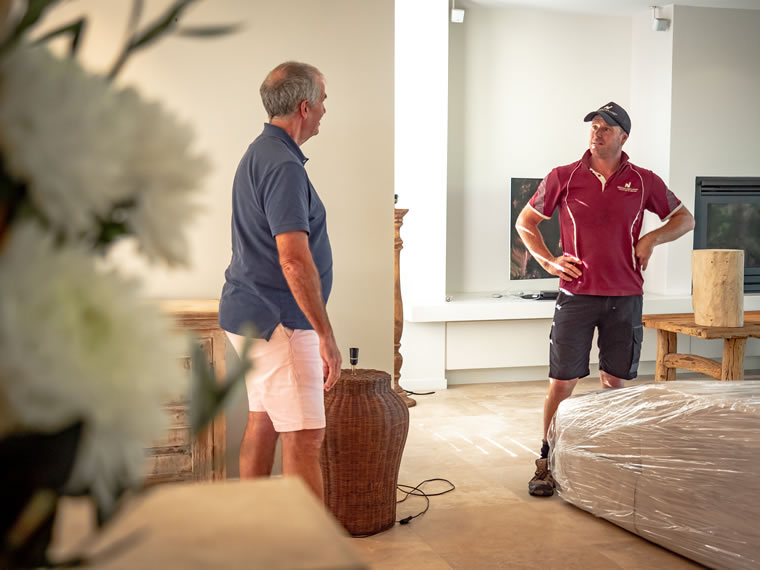 What to do if your item/s are too big for a standard carton:
FOR LARGER OBJECTS, requiring a taller carton you can add height to a standard carton by securing a half standard carton to the top of another full carton; see the following method.
Cut a standard carton in half, crosswise and set aside. Prepare the base of a full-size carton (as per above) then fully extend the top flaps upwards and secure in place by running tape around the sides. Then slide a half carton (cut edge down) over the taped flaps, slide the half carton up or down over the flaps to give you the desired height. Then tape the half carton to the full carton and secure the top flaps; it may be necessary in some instances to leave the top flaps open.
Basic pre-packing instructions:
You can view step by step practical demonstration by one of our team by clicking this video link
Prepare a few cartons by tapping across the seam of the flaps at the bottom of the carton and allowing at least 20cm to run up the side of the carton. Then repeat this process along the join of the flaps, to give a secure base to your carton.
Using sheets of clean paper moderately scrunched, to place at the bottom of the carton to provide cushioning.
When moving Interstate, it is best to use more paper rather than less, as there are more rigours placed on packed goods travelling longer distances.
Wrap all individual items in Butchers' paper, or packing paper from your removalist, start by placing less fragile / heavier items to the bottom of your carton. As you work your way up the carton pack smaller more fragile items to ensure you are making the most of the space within the box.
Once you have packed the carton to approximately 10cm from the crease where the flaps will fold over, place more scrunched paper on top of items to ensure a moderate amount of pressure exists within the carton when sealed; be sure that the flaps fold flat and that there is no bulging at the top of the box.
Make sure that the box is packed to a weight that can be carried by one man comfortably. Very heavy items should be packed into book and wine cartons, where possible, and if this not possible place them into a standard carton with no other items, or with items of little weight such as cushions.
More advanced pre-packing techniques:
Every household contains different items, requiring different packing methods to ensure a damage free relocation e.g. valuable, large, heavy, oddly shaped, extremely fragile etc. In the next section, we have provided some tips for handling some of the more difficult items to pack safely.
Lamps:
The size of the lamp/s, will determine the best sized carton/s to use.
For smaller lamps remove the shade and set aside, place the bases of the lamp/s into the standard carton and ensure they are not protruding, if so see note at the bottom of page.
For larger lamps, please read packing of larger objects at bottom of this page
Fragile Plates:
All plates regardless of size should be wrapped individually and placed on their edge (upright). This ensures only one pressure point, it is the ideal way to transport such items. When wrapping plates or fragile effects, ensure you have used adequate cushioning between each item; as well as the scrunch/cushioning paper at bottom of carton.
Wine Glasses or China:
Wine glasses or china sets should be packed into book and wine cartons with plenty of wrapping/cushioning paper. Make sure there is adequate scrunch/cushioning paper at the bottom, sides and top of the carton.
Sculptures…and other fragile effects:
Every sculpture is unique and will require its own method of packing. You may need to be creative in cutting and taping boxes to obtain the correct size carton to ensure that it is packed for safe transport.
This applies equally to most other fragile effects, be sure to use more cushioning paper than usual. If you are not confident based on its fragility or size, it is best to enquire with your removalist, be sure to do this in advance, so they are well prepared and can bring the right materials.
Packing of larger objects
For larger objects, a standard carton can be cut in half and set aside. Tape the base as per previous instruction. Fold flaps upwards and tape around to secure. Slide a half box (cut edge ) over the taped flaps, slide the half carton up or down over flaps to desired height and tape to the main carton, this process allowing a taller carton.