Noosa Van Lines offers a premium interstate relocation service from Brisbane to Sydney on a weekly basis. We are a very well established removal company operating for almost 40 years and as a fully accredited member of the Australian Furniture Removers Association since 2005. We pride ourselves on providing the highest quality of service to each and every-one of our thousands of customers over the years. Service that is delivered with genuine care by experienced professionals with the aim of making the move as easy and stress-free as possible for everyone involved – a relocation service you can count on.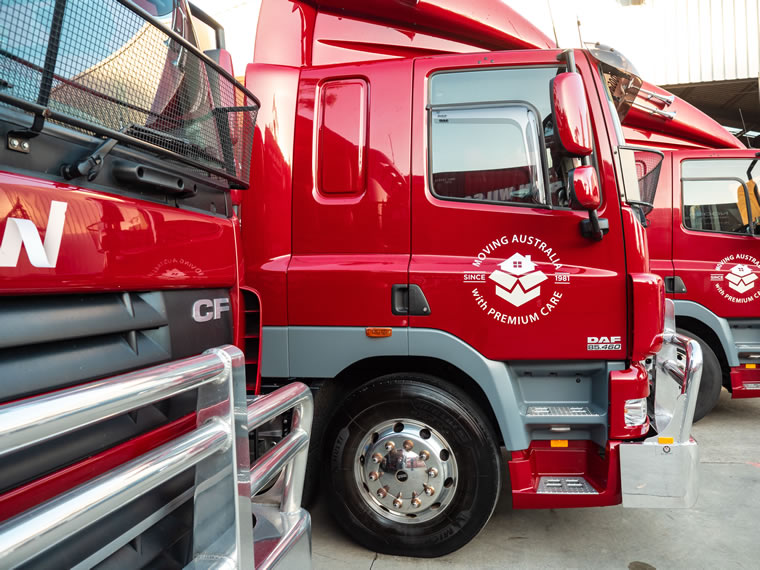 When moving interstate from Brisbane to Sydney, it's important to use a trusted removal company.  At Noosa Van Lines, we understand that the complete experience is what really counts – professionalism from your first point of contact through to completion of all work. We invite you to take some time to check out some of our reviews on these independent sites as well as those provided directly to us and shown on this website.
Click for Google reviews.
Click for Product Review reviews.
Click for Facebook reviews.
You can choose Noosa Van Lines with confidence for your upcoming relocation
We make this statement with confidence ourselves knowing that we have thousands of very satisfied customers who repeatedly tell us that our team have made their move easy and stress-free for them…delivering all that we promised to undertake and more.
AND from knowing the care we take in understanding the requirements and expectations of each customer and every aspect of the move BEFORE we commit and book in the job.
Some other key points we highlight for your consideration:
We have a proven track record as professional interstate removalists.
We have acquired hundreds of positive reviews across multiple platforms.
We are an active accredited member of the Australian Furniture Removals Association.
We offer clear and transparent quotations.
We offer insurance options for transport and storage.
All staff members are highly trained in all aspects of relocations.
Our team in the office and on the job ensure that you are kept well informed from start to finish…a huge factor in reducing stress
With almost 40 years of experience in the relocation and storage industry, we have built up a vast amount of knowledge and know-how on how best to undertake every aspect of a relocation to ensure each job gets completed to the highest of standards – with ease and stress-free for all concerned.
We have a well equipped, well maintained, modern fleet of vehicles specifically designed for the removal industry.
With a highly experienced and very knowledgeable team in the office, we can generally set your mind at ease and answer any queries you may have…clearly and effectively.
We can assist you with a long list of Removal Services:
Noosa Van Lines offers a wide range of services within the removals industry. We have listed below the most common and regularly used services. If there is a particular service that is not listed, please contact one of our friendly office staff to enquire whether it is a service we can assist with.
Small or one item relocations through to the largest of residences.
Special item or antique relocations.
Car relocations
Pet transport options and contacts
Difficult access relocations
Pre-packing of personal effects
Furniture quilts for the protection of all unboxed items
Heavy-duty mattress covers for mattresses and a shrink wrap system for felt/fabric items.
Insurance options
Set pick up and delivery days.
Pick up and deliveries in all towns/cities between Brisbane and Sydney.
Obtaining a quote:
You can obtain a quote via your preferred method from those listed below
We provide you with a FIXED PRICE PROPOSAL, based on the information you have provided to us and our assessment of the time and resources it will take to deliver the standard and time frames we are committing to.
It is therefore critical that the information you supply to us is both accurate and complete. We understand that it can be difficult to accurately estimate the number of boxes you will have, so make an educated guess initially and we can refine the number closer to your moving date.
One of our experienced operations managers will respond to your enquiry within 24 hrs (Business Days).
Our Weekly Schedule: Also displaying our route times from Sydney to Brisbane.
SOUTHBOUND (Brisbane to Sydney)
| | | |
| --- | --- | --- |
| Loading ex: | Brisbane | Monday |
| Unloading in: | Sydney | Tuesday |
NORTHBOUND (Sydney to Brisbane)
| | | |
| --- | --- | --- |
| Loading ex: | Sydney | Wednesday/Thursday |
|  Unloading in: | Brisbane | Friday |
Noosa Van Lines can also offer alternate dates to this if you wish to be the sole occupant of the vehicle. This service will generally suit larger relocations best and is classified as a premium service. When requesting a proposal, please mention the specific day and date and confirm that this is the service you require.
Areas we can assist in moving from and to include:
If your town/city is not listed, please contact one of our friendly office team to see if we can assist with your relocation.  
| | | |
| --- | --- | --- |
| Ipswich | Ballina | Central Coast Region |
| Gold Coast | Grafton | Gosford |
| Toowoomba | Coffs Harbour | Sydney |
| Byron Bay | Port Macquarie | Wollongong |
| Glen Innes | Forster | Blue Mountains |
| Armidale | Tuncurry | Nowra |
| Tamworth | Newcastle | Mittagong |
What is Australian Furniture Removers Association (AFRA):
AFRA is an official representative body of the removal industry in Australia. AFRA only provides accreditation to those furniture removalists companies that meet the strictest of membership criteria in relation to – equipment, vehicles, premises, staff and liability cover… confirming they have the ability and track record for providing professional furniture removals.
For any local, intrastate, or interstate removal, it is advisable to use an AFRA accredited member. It is the only governing body that regulates the removal industry in Australia and can also assist should an issue arise with your chosen removalists.