Average Customer Rating: 4.9 out of 5 from 690 ratings
We operate weekly services in both directions.
Noosa Van Lines has undertaken Melbourne to Brisbane removals and vice-versa since 1981, providing an efficient, cost-effective, professional solution to your relocation needs.
At Noosa Van Lines we pride ourselves on the service we offer. We ensure each relocation is undertaken with the utmost care and attention, whether you're moving a single item or the contents of a large residence.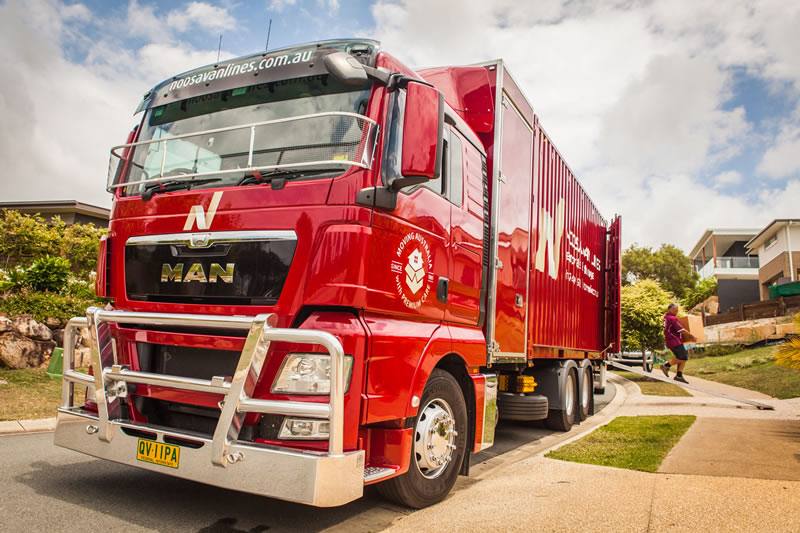 Noosa Van Lines has been at the forefront of our industry for many years. We are an active member of the Australian Furniture Removers Association (AFRA), taking a lead role in terms of professionalism and customer service standards.
This is reflected in the numerous national awards we have received from AFRA, including multiple Furniture Removalists of the year, Employee of the year and Fleet of the year. All coming as a result of the manner in which our team completes each job and the overall standard and professionalism of their work…and above all, the care they apply in doing everything they do.
All our team members are committed to meeting the very high benchmark we set ourselves and meeting the strict requirements that come with being AFRA accredited.
When deciding on which interstate removalists you will use, it is worth considering the added value and peace of mind that comes with choosing an AFRA member.
What other services do Noosa Van Lines offer for interstate relocations?
Full or part pre-packing services.
Insurance options.
Special item relocations.
Set uplift/pickup and delivery days.
Plastic covers if requested for mattresses and soft furnishings.
Car relocations (Using a Reputable agent)
Pet transport options (Using a Reputable agent)
We can also offer you the use of specialised shipping containers for your move.
A major benefit if you require short-term storage between uplift and delivery…improves efficiency and flexibility with dates AND importantly avoids double handling.
Melbourne to Brisbane / Brisbane to Melbourne removal schedule:
We can now offer you flexibility in Pick Up and Delivery days; subject of course, to availability.
We operate to the following schedules as well as having the ability to add capacity on other days of the week where warranted.
If you have a preference, for pick-up and/or delivery on other days, please contact us so we can have a look at your specific requirements with you.
Our set weekly schedule is detailed below.  We also can be flexible with our loading schedule and unloading schedule dependant on availability, size of relocation and region. The schedule outlines our direct route relocation services.
SOUTHBOUND
| | | |
| --- | --- | --- |
| Loading ex: | Sunshine Coast | Thursday / Friday |
| | Brisbane/Gold Coast | Thursday / Friday |
| Unloading in: | Melbourne | Thursday / Friday |
NORTHBOUND
| | | |
| --- | --- | --- |
| Loading ex: | Melbourne | Monday / Tuesday |
| Unloading in: | Gold Coast/Brisbane | Friday |
| | Sunshine Coast | Friday / Saturday |
These are other areas that can be serviced on our weekly Melbourne to Brisbane / Brisbane to Melbourne Relocation services. If your town / city is not listed, feel free to give us a call to see if we can assist you.
Shepparton
Wangaratta
Albury
Wodonga
Wagga Wagga
Canberra
Goulburn
Sydney
Parkes
Dubbo
Newcastle
Port Macquarie
Coffs Harbour
Toowoomba
Ipswich
Gold Coast
*Pick-up and Delivery for these Cities/Towns and others en route will vary, depending on location.
Noosa Van Lines also offers a Sunshine Coast, Brisbane and Gold Coast to Melbourne removals service. Please see above for load and unload schedule for North and South bound trips each week, or call us to check for more specific timings for your job.
How are interstate removals charged?
The two key elements relocation companies take into account when providing a quotation are:
The cubic volume of the items to be moved.
Access at pick and drop off points.
Firstly, we assess the volume you have by asking you to provide us with an accurate inventory of every item you are wanting us to relocate for you. Once we have received this, we will calculate the cubic volume involved, the more volume you have, the more you are charged. It is a good idea prior to supplying the inventory, for you to peruse all your belongings and decide whether each item is worth transporting.
Secondly, before supplying a formal quotation for your relocation, Noosa Van Lines will assess your access. The more difficult the access, the more time it will take to extract your effects and load the vehicle, this also applies to unloading. We evaluate this from the information you provide as well as reviewing the locations on Google Maps.
It's a good idea when obtaining quotes for your interstate removal to make sure your specific access is taken into consideration, to avoid any additional charges.
At Noosa Van Lines we take great care in preparing our quotes so that we can offer a fixed price for the volume you have detailed to us. 
We provide an easy to complete on line quote form, as well as a printable version to assist you in providing us with all the information we need.
OUR PROMISE TO YOU.
Together we will make your removal (and storage if you have any) EASY and STRESS-FREE, by being friendly, careful (full of care) and reliable.
From your first point of contact with us through to the completion of your relocation, and beyond.
We have been doing this for clients since 1981 and we intend to keep doing it for many years to come.
You can choose Noosa Van Lines with confidence, many others have, and you can read many of the reviews here. 
Road Travel Plan
Noosa Van Lines staff have been Melbourne Brisbane removalists for many years, and this travel plan could help should you be taking the drive yourself:
Departing Melbourne, there are 2 major highways, in this article we will be discussing the Hume Highway / Pacific Highway. Upon completion of the final load in Melbourne, your removalists will take a connection road to the start of the Hume Highway.
Heading north, the first major city you will come to is Albury / Wodonga. Although close in proximity, and usually generalised as a close community, they are separated geographically by the Murray River and politically by a state border. It is an excellent opportunity to refuel and stay the night should travel plans permit. Leaving Albury-Wodonga and travelling approximately 3.5 hrs north, your next encounter will be Goulburn. Goulburn is situated on the Southern Tablelands and is surrounded by pastoral land. Goulburn has historical buildings as well as some areas to relax prior to the next leg of your journey.
Upon departing Goulburn, we follow the Hume highway into the internationally renowned city of Sydney. Capital of NSW and the most populous city in Australia, it boasts one of the most diverse cultures in the Southern Hemisphere. Continuing North, the next major region is the Central Coast. The Central Coast covers a large area from smaller inland towns to beachfront cities. The Central Coast is just south of Newcastle and both these areas are ideal to take a short break, refuel and prepare for the last leg of your journey to Brisbane. Leaving Newcastle, you will encounter various smaller towns that can be valuable for refuelling as well as rest
The next large city on your journey north will be Coffs Harbour. Coffs Harbour is rated as the most liveable city in Australia. With a well-planned trip, this can be the last stop on your relocation journey. Travelling a further 4.5 hours north, you have reached your destination of Queensland's capital, Brisbane. Noosa Van Lines wishes you and your family all the best for the transition to our beautiful state.
Our aim is to make your move easy, stress-free and for you to experience the premium care that we are renowned for.
Request a free removals quote now.
Customer Reviews:
The team were excellent both with pick up in Brisbane and delivery in Melbourne. They were on time and packed everything very well. Highly recommend and would use again.
Great service - we have never moved interstate before but the service provided by Noosa Van Lines put our minds at ease. The move went well with the staff being punctual, courteous and professional. Would recomend this company to anyone.
Very efficient moving team at both ends. Items were transported smoothly and overage was charged reasonably.
Stress free experience from initial visit from Sydney to final delivery in Qld. Very professional staff - Bull and Cameron who are friendly and relaxed. Fantastic job boys. Cheers, David
Doing business with Noosa Vans Transport was absolutely terrific they are absolutely professional friendly on time careful and of their word. I more than highly recommend them. Maureen
This was our best move yet! Great professional and friendly team. Made our move completely stress free, we highly recommend them and will use for all future moves!
I had an absolutey amazing experience from start to finish. Couldn't speak more highly about every person involved. Thank you so much and I will promote your business at every opportunity.Kind regards, Darren
Yes, We enjoyed the professionalism of the Team from Noosa Van Lines both with the packing in Noosa & Unpacking in New Farm. A joy to work with. Regards, Rod Morris
From the first phone call of enquiry & the following calls once I had made my booking, I knew I had chosen the right removalists to take care of my relocation. The courtesy & reassurance extended to me by Scott, was just great. On the day of pick up, the guys were again, very courteous, efficient & the job was completed within the hour!! I wouldn't hesitate to recommend Noosa Vanlines to anyone thinking of relocating to QLD.
The guys in both Melbourne & Queensland were so polite, professional , hard working & friendly. They handled all our goods with such care and they packed an amazing truck. The delivery timing was as discussed and book - there were no surprises. We have moved several times over the years and we wish we'd found & used Noosa Van lines before. Everything made our move less stressful- thank you!
Noosa Van Lines (NVL) seemed to specialize in Interstate moves like ours and their quote was much more affordable than the other company we approached, (who we had used before) NVL was prompt to arrive to pick up and also arrived nice and early for drop off. This was quite an accomplishment, considering our move was from Melbourne to North Brisbane and anything could happen along the way. We had not one breakage and all of the guys were wonderful.
From the first phone call to make enquiries about an interstate move, through to it actually happening, the service from all staff at Noosa Vans has been exceptional. The communications were prompt and accurate, the staff extremely friendly and efficient, and my whole household goods arrived on time, and with no breakages. I'm a very impressed and relieved customer, and would not hesitate to recommend this company, no matter how small your move is. Thank you all.
I would like to thank all at Noosa Van Lines, you we great from the start to finish, the guys that moved us couldn't do enough for us, we will be moving into our new apartment in January 2020 and we will be definitely use Noosa Van Lines and if possible the same team, and again many thanks. Patricia and Paul Sprunt
This outfit are totally professional - communicated well - arrived on time at both locations - interstate move went without a hitch everything turned up undamaged - highly recommend - thank you guys
From my first contact to last, hassle free, competitive pricing and professional. Will use them again. Thanks to all. Britt
The guys at both ends of our epic journey were nothing short of fantastic Packed all our goodies safe and sound And moved them from Melbourne to Gympie with efficiency and professionalism Colin
Great crew! They made my move so easy. Thanks!
The whole process from quotation to delivery was prompt, efficient and executed by friendly staff
Simply a great job done from beginning to end. Thanks everyone.
From first phone call to delivery my move from Melbourne to Sunny Coast was less stressful due to the care and efficiency from the team. Patrick was reassuring on the phone that all will be well and no request was a nuisance. Adam ensured pick up was stress free and the delivery into my new house was efficient and humorous thanks to Scott, Brendan and Nick! Compared to other companies who quoted a 3 week transit, I will recommend NVL to anyone. Thank you to all the team!
I am disabled and the boys went out of their way for me to facilitate a smooth move, Thanks.
Overall we were happy with the service provided by Noosa Van Lines. Geoff, the driver, was very obliging and careful with the packing during the uplift. Our only disappointment was that despite requesting that the fridge doors be left ajar when offloaded at the storage facility in Noosa, we found the door of one fridge closed. As the second fridge is at the back of the storage unit we can't get to it and if the door is closed that fridge will be ruined in a year's time when we move the furniture to the new house.
You guys were absolutely awesome. From Pat over the phone to the lads that picked up and then the guys that dropped off. Everyone was so friendly and just great to deal with. You guys made what is usually quite a stressful time easy and effortless on our side. Thank you Noosa Van Lines. You guys are awesome.
Would recommend to others. Made what could be a stressful experience into a painless transfer and storage of family treasures. Very impressed and appreciated
Thank you for such a stress free seamless move from interstate for my elderly brother. Would definitely recommend your services & book again with you if needed in the future.Kind Regards Linda Bull